Webster Hardness Tester
A fast, accurate, portable hardness gauge for testing aluminium, brass, copper and steel.
Test a variety of shapes including extrusion, tubing and flat stock
Simple operation
Models available to test thickness up to one inch.
Applications:

Identifies heat-treated from nonheat-treated parts.
Provides correlation between a bench mounted hardness tester and the production line.
Segregates materials in stock.
Differentiates between soft or work-hardened material.
Identifies parts made from improper or substandard alloys.
Checks for proper heat-treatment response.
Useful in conjunction with stationary laboratory hardness testers. Gives a rapid 100% check on parts which would consume many man hours with slower operating test equipment.
Can be used on assemblies that cannot be brought to the labs.
Features:

One hand operation and portability.
Round 3/8 inch diameter anvil permits testing a great variety of shapes.
Simple operation permits readings independent of the operator's skill.
Test is made by simply applying pressure to the handles until "bottom" is felt.
Easy-to-read dial indicator with 20 graduations permits use of the tester as "go" and "no-go" gauge.
Standard hardness gauge tests materials up to 1/4 inch in thickness.
Increased capacities available up to 1 inch.
Available Models:
The Webster Hardness Testers are a portable, fast, accurate hardness gauge that are made in three distinct models for testing Aluminum, Brass, Copper and Mild Steel. Webster Hardness Testers will quickly identify tempers and test a variety of shapes that other testers cannot check, such as extrusions, tubing and flat stock.
All testers operate in the same manner but differ only in penetrator design, type of load spring and hardness ranges. The principle of operation is simple. The work to be tested is placed between the anvil and the penetrator. Pressure is then applied to the handles until "bottom" is felt at which time the dial indicator is read.



Standard Kit includes: Main Unit, fitted case with a spare penetrator, adjusting wrench, standard test strip and instruction manual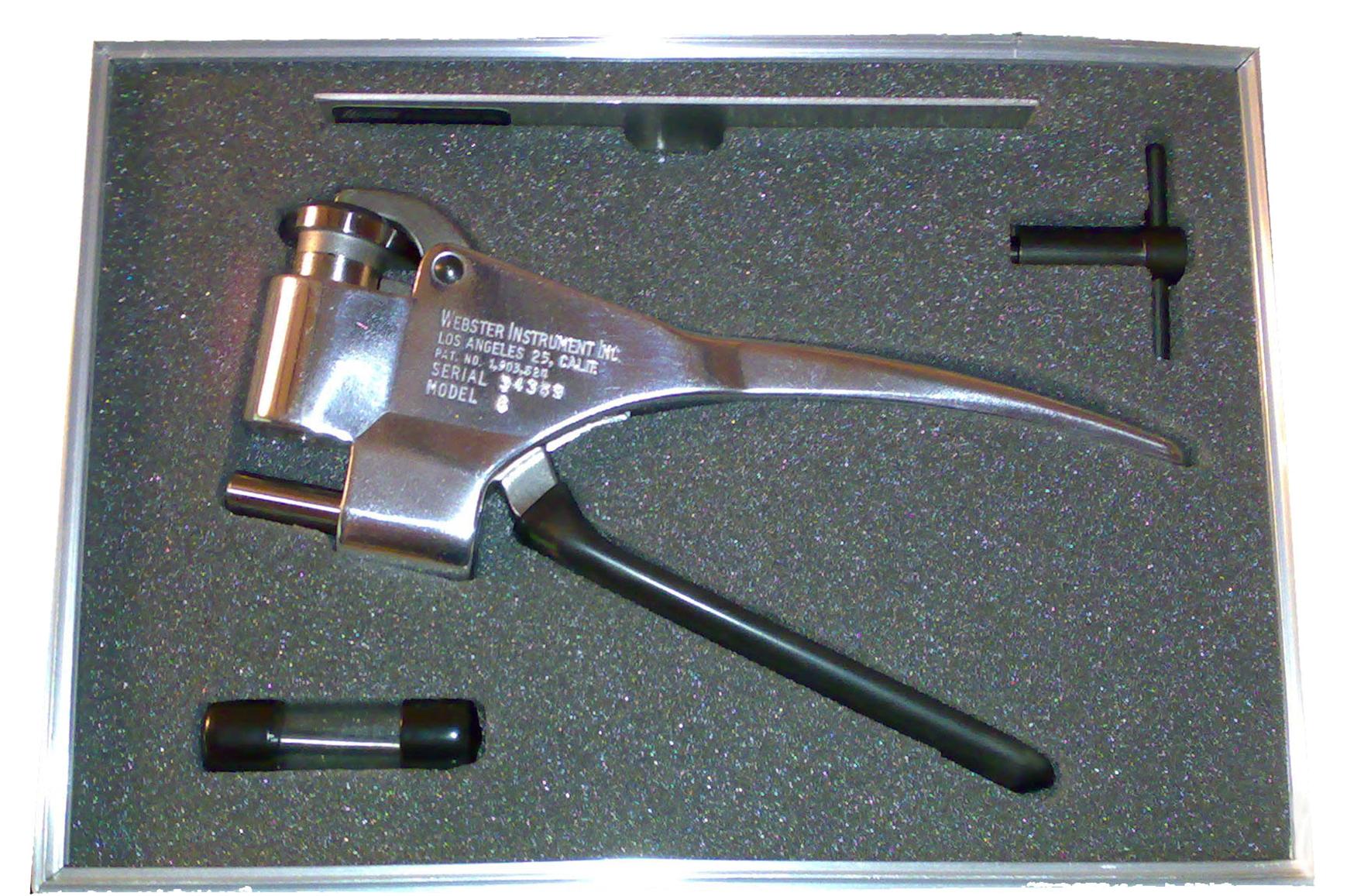 Instruction Manual



**** BEWARE OF IMITATION PRODUCT ! ***

Accessories and Replacement Parts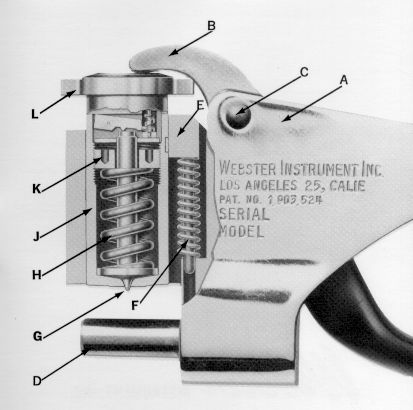 WEBSTER HARDNESS TESTER
Parts List for Models B, B-75 and BB-75

Model

B

B-75

BB-75

A

Frame

Part No.

103

103

103

B

Handle

104

104

104

C

Pivot Screw

108

108

108

D

Anvil

107

107

107

E

Housing Key

112

112

112

F

Return Spring

111

111

111

G

Penetrator

116

117

117

H

Load Spring

110-B

110

110-B

J

Penetrator Housing

118

118

118

K

Adjusting Nut

106

106

106

L

Dial Indicator Assembly

125-B

125-B

125-B
This cutaway view of a Webster Hardness tester shows the working parts common to all testers. Each tester is identified with a model and serial number stamped on the frame and should be mentioned in all correspondence relative to repair or when ordering parts. Penetrators should be examined periodically for wear and replaced with new ones.

Please note the following for replacement parts:
Penetrators and Load Springs differ with each model tester. All of the other parts are common to all three testers.